OpenAI's ChatGPT has become popular for its conversational AI capabilities. However, it currently lacks a native function to upload a document to ChatGPT and ask questions directly from the context of those documents. While some users may have the knowledge and tools to train their own AI chatbot, not everyone does. Fortunately, there are several easy methods to upload documents, including PDFs, Word documents, Excel files, and more, to ChatGPT. In this tutorial, we will explore six different methods to accomplish this. We will also address frequently asked questions related to uploading files to ChatGPT.
Method 1: Uploading Files document to ChatGPT Using Code Interpreter
Code Interpreter in ChatGPT allows users to directly upload files to the chat UI. Here are the steps to upload files in various formats:
Visit the ChatGPT website and click on the "Settings" option located in the bottom-left corner.
In the "Beta features" section, enable the toggle for "Code Interpreter".
Switch to the "GPT-4" model and select "Code Interpreter" from the drop-down menu.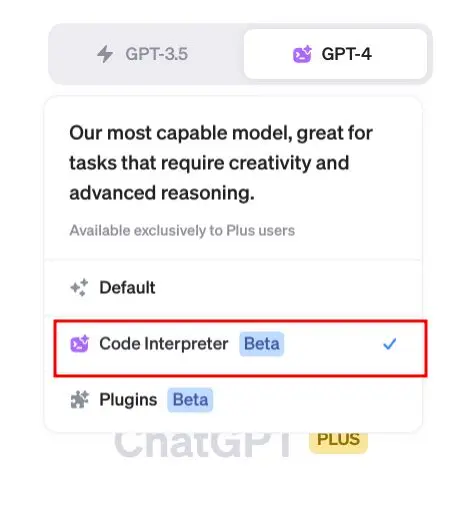 A "+" button will appear in the text field below. Click on it to upload files natively to ChatGPT.
As an example, a PDF file can be uploaded for Optical Character Recognition (OCR) and to make it searchable within ChatGPT.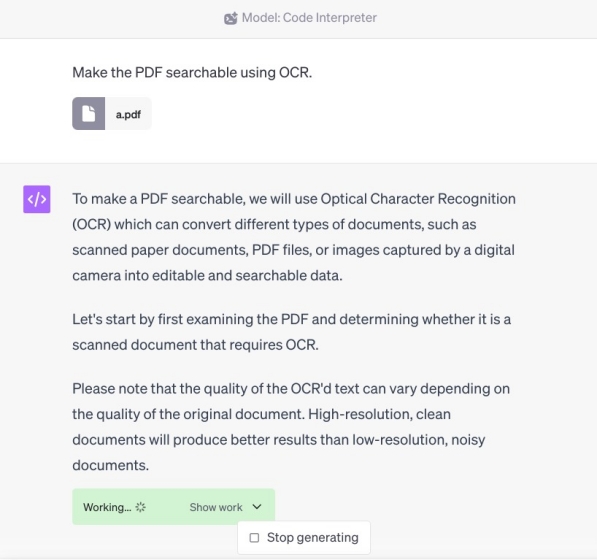 —
Method 2: Uploading a Document to ChatGPT for Free Using an Extension
OpenAI has not yet implemented native functionality for uploading documents and files to ChatGPT. However, there is a ChatGPT Chrome extension called "ChatGPT File Uploader Extended" that allows users to seamlessly upload various document formats. Here's how to use the extension:

Install the free "ChatGPT File Uploader Extended" extension from the provided link.
Open the ChatGPT website and a "Upload" button will appear in the bottom right corner.
Click the button and select the document you wish to upload. Popular document formats are supported.
The document will be automatically processed.
The AI chatbot will generate a summary of the document.
Users can now ask questions, and ChatGPT will provide answers based on the uploaded document.
Successful tests have been conducted using various file formats. However, scanned images cannot be processed.
Users can customize settings such as chunk size for larger documents, prompts, ZIP file settings, and more.
—
Method 3: Uploading a PDF File to ChatGPT Using a Third-party Website
To upload a PDF file to ChatGPT, you can use a service called chatpdf.com. This service utilizes the ChatGPT API to process and analyze PDF files. Here is a step-by-step guide:
Visit chatpdf.com and click on "Drop PDF here" to upload your PDF document.
Alternatively, you can use the "From URL" link at the bottom to enter the URL of a PDF file.
The PDF document will be processed within a few seconds, depending on the file size.
A summary of the document will be displayed along with suggested questions. Users can also ask their own questions below and engage in a conversation with the PDF file.
Microsoft Edge has integrated a ChatGPT-powered Bing Sidebar into its browser. This AI tool enables document analysis without requiring file uploads. Simply open the document in Microsoft Edge, and it will be automatically processed.
—
Method 4: Analyzing PDF or Text Documents Using ChatGPT Plugins
ChatGPT Plus subscribers can leverage the latest GPT-4 model and ChatGPT Plugins to upload and study a wide range of documents. Here's how to access this feature:
Enable ChatGPT Plugins on the ChatGPT website according to the linked guide.
Switch to the "GPT-4" model. Within the "Plugins" option, navigate to the "Plugin store".
Locate and install the "AskYourPDF" plugin or other recommended plugins.
Enable the installed plugin.
Enter the document link into ChatGPT and ask any desired questions.
To upload a personal document, run the provided prompt and follow the instructions.
A document ID will be generated. Paste the document ID and ask any desired questions. The uploaded document will be automatically identified for question-answering within ChatGPT's interface.
—
Method 5: Uploading a Document to ChatGPT Using BookGPT
For users with large documents, the BookGPT project on Hugging Face offers a suitable solution for uploading an entire book. Here's how to use the BookGPT project:
Sign in to your OpenAI account or create a free account if you do not have one.
Get your OpenAI API key.
Open the BookGPT project and paste your OpenAI API key at the bottom of the page.
Provide the URL of the PDF document or upload a local PDF file to ChatGPT.
Ask your questions and click on "Submit".
Within a few seconds, the document will be processed, and an answer with page number citations will be provided.
Continue asking further questions.
—
Frequently Asked Questions
Q1: Is it possible to upload a file to ChatGPT?
A1: Yes, there are methods available to allow file uploads, such as using Plugins, an OpenAI API key, extensions, or third-party services.
Q2: Can a PDF be loaded into ChatGPT?
A2: Yes, it is possible to load a PDF file into ChatGPT using Plugins. Additionally, other methods mentioned in this tutorial can be utilized for seamless PDF file uploads.
—
Conclusion
Although ChatGPT initially lacked a native document upload function, there are now multiple straightforward methods available for uploading various document types. The options mentioned in this tutorial provide users with the ability to interact with documents directly within ChatGPT's interface. With these methods, users can easily ask questions and obtain answers based on the content of uploaded documents.